District Information:
The Southwest Florida Council is divided into four districts designed to support Scouting in each area through training, program planning, and unit and financial support. (Click on the map for a larger view.)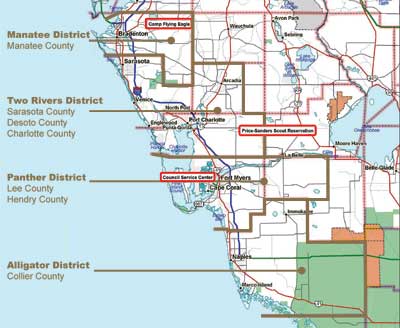 The districts are charged with carrying out four standard functions:

1. Membership Growth

2. Financial Support of Scouting

3. Program Support

4. Unit service
Our Service Areas:
Northern Service Area
Manatee
Manatee Counties
Two Rivers


Charlotte, Desoto,
Sarasota Counties

Southern Service Area



Panther


Lee and Hendry
Counties
District Organization:
A district committee is composed of volunteers who deal with specific tasks, to assist you with specialized help.
Your district committee consists of seven operating committees: membership, training, camping & outdoor, activities & civic service, finance, advancement & recognition and commissioners (unit service).
The district has a commissioner staff. A unit commissioner is assigned to coach your unit adults, help solve problems, and provide other guidance as needed.
The commissioner staff is also responsible for monthly roundtables designed to help you with program ideas, Scouting fellowship and fun. These people stand ready to assist you. Please don't hesitate to call them.
A phone call to your commissioner, or district chairman can assure prompt, speedy attention to your unique needs.